How to obtain ISO 27001 Certification in Egypt ?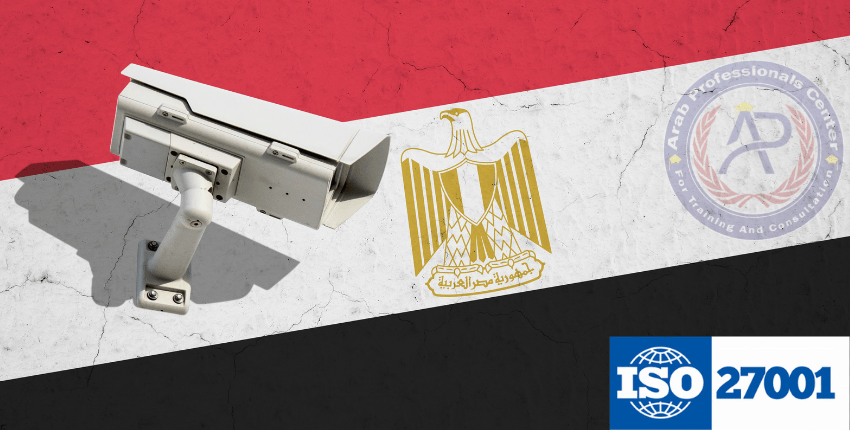 ISO 27001 Certification in Egypt
Arab professionals center is one of top leader in information security industry within Egypt and middle east region, we provide a wide range of information related services such as:
ISO 27001 consultation & training services
Auditing the information security system as per ISO/IEC 27001
Provide ISO 27001 certification by our lead auditor team
What is ISO 27001 Certification ?
ISO 27001 certification
refers to the international standard that help organization in managing their information security. This international standard contains many clauses that state requirements for how to establish, implement, maintain, and continues improvement of an ISMS Information Security Management System, the implementation of standard is to is to help all type of organizations and companies (governmental or private) to keep their information assets safe and secure. ISO 27001 management system is very important to protect your assets like such as documents, information, intellectual property and so on
Egypt economy and information industry
now information technology industry considered a trend within the international economy, Egypt is currently home to many international multinational companies such as Apple, Uber and Swvl …etc, which work in the field of technology, in addition to many financial institutions working in the field of banking, insurance and risk management, in addition to hundreds or even thousands of startup companies that own applications or websites or provide services related to technology seeking ISO 27001 Certification in Egypt
all of these activities mentioned above create a huge amount of data that should be safe and secure from loss, theft or misuse, this could be achieved by develop implement systems for ISO 27001 and enables organization to show its ability for keeping all data safe and secure.
Are you seeking for ISO 27001 certification in Egypt?

How your company in Egypt could be certified for ISMS iso/iec 27001
Establish your own system and standard for data security
fully comply with international standards ISO 27001
Initial review and assessment of the management system
1st stage audit for Certificate issuance
2nd stage audit for Certificate issuance
Issuance of the certificate and access to our certificate database on the Internet.
Annual surveillance review.
Re-issue the certificate (renewal) after three years and follow up the process of continuous improvement and development.
List of procedure to be ISO certification holder 
our consultant and ISO experts will create and establish a complete ISO certification documents required and essential for certification, this include procedure, forms, policies, and quality manual
ISMS ISO 27001 Policy
Control of ISMS Documents and Records
Information Security Training, Awareness and Competence
ISMS Planning and Management Review
Assessment and Treatment of Information Security Risks
Operational Planning and Control
Determination and Control of Outsourced Processes
Internal and External ISMS Communication
Monitoring, Measurement, Analysis and Evaluation of ISMS Performance
Internal ISMS Audit
ISMS Non-conformity Handling and Corrective Action
Human Resources Security
Asset Management Procedure
Access Control and Cryptography
Physical and Environmental Security
Operations Security
Communications Security
Acquisition, Development and Maintenance of Information Systems
information Security in Supplier Relationships
Information Security Incident Management
Business Continuity Management
Compliance with Legal and Contractual Requirements
Information Security Reviews
our services coverage
we cover all type of sectors and organization regardless their location or their business nature, we are covering and serving Egypt companies in Great Cairo such as Cairo, Giza and also Alexandria, Suez, 10th of Ramadan, and 6th of October, if your company in Saudi Arabia please visit
ISO 27001 certification services in Saudi Arabia
our experts has a good contribution with many major industry such as:
software house and programing industry
internet provider and data center
bank and financial institution
industrial sectors
retails and hyper markets
mobile application and programs
and so on