ISO 9001 certification in Egypt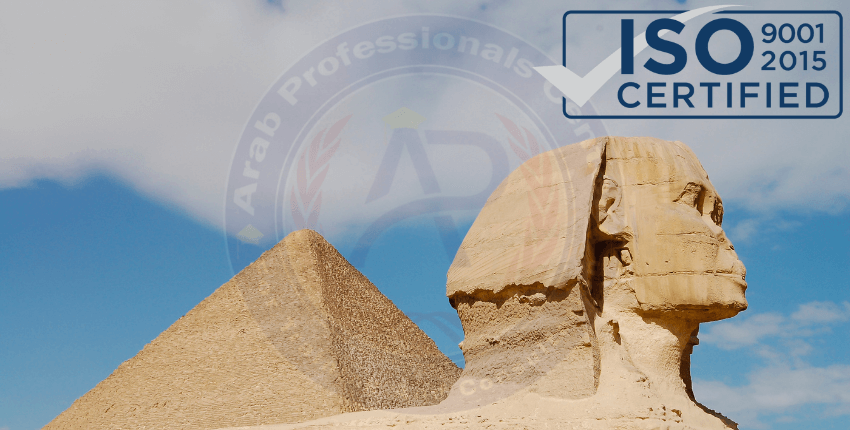 At Arab Professionals Academy for Training and Consulting, we seek to assist all companies, institutions and entities in their various activities to apply the ISO 9001 standards and quality systems and qualify them to get the ISO 9001 certification by providing all necessary services, including the rehabilitation of human resources and training individuals to apply quality standards. Administrative and customer assistance even get the ISO 9001 certification.
ISO 9001 certification in Egypt
The ISO 9001 certificate is one of the most sought-after certificates in the world, especially in Egypt, where all companies working in the industrial, agricultural, commercial or service sector are seeking to obtain it, and obtaining the ISO 9001 certificate is an international recognition from the certification authorities that the company has A quality management system complies with the requirements of ISO 9001 and that the system operates effectively and efficiently, also if you are seeking for ISO 27001 certification in Egypt ISO 9001 will help to make it easy.

The importance of obtaining ISO 9001 certificate in Egypt
Opening new markets locally and internationally

Obtaining new export opportunities, after which the exporting companies are required to obtain the ISO 9001 certificate before starting the export process.

Obtaining export subsidies from the state as a prerequisite

Organizing the company's internal procedures and work cycle and helping it to improve performance

Reducing waste, waste and time, thus reducing cost and increasing profits
Requirements for obtaining ISO 9001 in Egypt



The ISO 9001 certificate is granted to companies legally located in Egypt with a commercial register

The company can provide objective evidence of having a quality management system compliant with the requirements of ISO 9001

The company owns quality documents and records such as (quality manual – quality policy – quality procedures – quality records – quality objectives ….)

Implementation of the internal audit on the quality system and the existence of records to carry out the audit

Implementation of the Management Review Committee meeting and the existence of records to implement the meeting
Steps to get ISO 9001 certification in Egypt
Step 1: Identify the business activities of the company and make a gap analysis to know the gap between the current situation and the situation to be reached according to the requirements of ISO 9001
Step 2: Develop a work plan and project timeline
Step 3: Training the human resources of the company by providing some training programs to identify the project and its objectives, and the requirements of the standard ISO 9001
Step 4: Building the documented quality management system according to the requirements of ISO 9001 which includes quality procedures such as (documented information procedure – human resources and training procedure – procurement procedure – planning and service delivery procedure – internal audit procedure – management review procedure – corrective and preventive actions and improvement) – Conducting discovery of non-conforming outputs – Performing maintenance – Conducting sales and business development etc.)
Step 5: Implement the documented system on the ground and maintain quality records as evidence of continuous application
Step 6: Implement the internal audit on the company's quality system to ensure the effectiveness and efficiency of the procedures created and detect and correct non-conformities
Step 7: Implement the Management Review Committee meeting as one of the prerequisites of ISO 9001 in which resources are identified to ensure the continuity and effectiveness of the system and to inform senior management on the success of the system and its ability to guide the company towards the application of quality
Step 8: Implement the external audit by the certification body to assess the quality management system in accordance with ISO 9001 and record the cases of non-conformity detected and take the necessary measures to correct them
Step 9: Receive the ISO 9001 certificate